Od dłuższego czasu nie zamieszczałam niczego związanego z technologią, za co bardzo Was przepraszam. Mam jednak nadzieję, że strona, którą dzisiaj opiszę, wzbogaci Wasze zajęcia. Pomaga ona w szybki sposób wygenerować wyjątkowe ćwiczenia. Sami oceńcie 🙂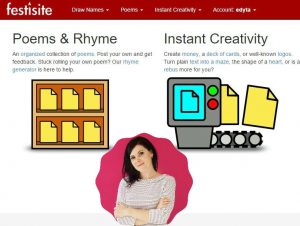 Rebusy, dokumenty, pieniądze – to tylko kilka opcji, które proponuje nam strona https://www.festisite.com
Zapraszam do obejrzenia mojego nagrania:
Poniżej zamieszczam kilka wygenerowanych materiałów na moje zajęcia.
Money, money, money
Ostatnimi czasy temat bardzo popularny na blogach 🙂 Ja właśnie zaczynam zajęcia odnośnie zachowania w sklepie i zakupów. Jedna z opcji na stronie www.festisite.com jest więc dla mnie idealnym rozwiązaniem. Mogę stworzyć więc pieniądze do zabawy. Zaspokoją one w pewnym stopniu ciekawość dzieci, ponieważ one chcą wiedzieć, jak naprawdę wyglądają pieniądze w innych krajach. Przemycę jednak w nich motyw zabawy, aby nie było zbyt poważnie 🙂
Rebusy
Był to na moich zajęciach strzał w dziesiątkę. Rebusy powycinałam i paski z nadrukiem pochowałam w sali. Klasa 3 i 4 oszalała. Zajęcia na bazie mini podchodów zawsze są strzałem w dziesiątkę. Dzieci były całe w emocjach musząc znaleźć wszystkie zagadki. Świetnie im poszło z rozszyfrowywaniem ukrytych wyrażeń.

Labirynt
Idealne zadanie na wprowadzenie nowych słów oraz na naukę pisowni. Ja to ćwiczenie wykorzystam już w następnym tygodniu przy temacie związanym z liczebnikami.
Mam nadzieję, że strona będzie dla Was inspirująca. Czekam na Wasze komentarze i podzielcie się swoimi pomysłami.
Bawcie się dobrze przy tworzeniu materiałów 🙂
Pozdrawiam
Edyta